Mystical Samurai
Played on: Mac, via itch.io
This is a real joy, a retro title done so well that it's slightly cruel it's not a full game!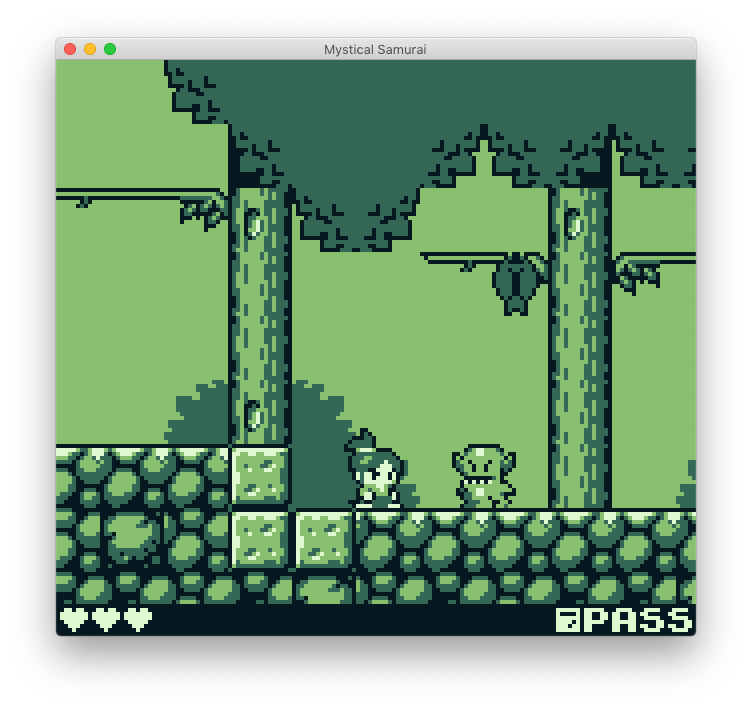 GBJam
Mystical Samurai is another GBJam game — in fact, it won the event that Gum Girl finished 2nd in. Whilst both are excellent mini-games, I think that ordering is justified.
Smoother
As soon as I started playing Mystical Samurai, it gave me a big old nostaliga hit: the graphics, the gameplay, that soundtrack — it really feels like every bit the Game Boy game. In fact, visually, it's a slight improvement on any GB title that I remember playing, certainly smoother anyway.
Platformer
The game itself is a pretty standard platformer, with some common tried-and-tested devices — there's nothing particularly original here, it's just done so very well. Everyone will have their own reference point, but I was reminded in particular of Gargoyle's Quest and Castlevania, both much-loved classics on this platform.
Boss-per-level
The one real nod to originality is the boss-per-level aspect, and this is, of course, very welcome in a game with just 3 levels. Level 1's boss was definitely a touch on the easy side, but the second ws tougher, and the final boss was a real challenge.
Challenge
That boss deserves a proper mention, because it's very well done: tough, but fair. There are four different, predictable phases, and each is fairly manageable, but there's challenge in remembering which phase is next, and having to react quite differently to each.
Accomplishment
There's so much polish here — even the password system is a joy to use! — and although I suffered one crash, this is a strong accomplishment overall, and one I'd hope to see developed further.
Mystical Samurai was created by Daniel Moreno, for GBJam7, with music composed by Paltian. It was ranked #1 out of all 115 entries.